The Role of OeKB CSD in the Capital Market
As central securities depository (CSD) according to EU-CSD Regulation (Regulation (EU) No. 909/2014), OeKB CSD GmbH (OeKB CSD) plays an important and central role in Austria's capital market. It is an essential prerequisite to the smooth functioning of the Austrian capital market.
A Brief Overview:
For centuries, the holders of securities had to administer their securities on their own. Five decades ago, shares and bonds started to be deposited in the vaults of so-called central securities depositories, such as OeKB CSD GmbH (OeKB CSD), which is now the most common form of safekeeping. After all, they still exist, the physical certificates representing shares, even though securities have long since been traded electronically. Usually, the physical form is a space-saving Global Certificate - i.e. a single certificate for all shares of a company - but it is still a paper document. To keep it short: Nearly all Austrian securities are deposited in the high-security vault of OeKB CSD.
OeKB CSD also keeps international securities indirectly, i.e. by holding securities accounts with international custodians.
Shares being exchanged physically from holder to holder has been done in the past. Nowadays, the certificates are never moved. They are only exchanged via electronic bookings on securities accounts. The shares and bonds physically remain in the vault of OeKB CSD, while their owners change. Since hardly an investor is eager to hold the certificates physically, this "dematerialised" securities trading is the easiest and most efficient way. The securities account holders of OeKB CSD, however, are not the individual investors, but rather credit institutions, investment firms, international central securities depositories and so on: Their bookkeeping reflects in detail, which shares belong to which of their clients. For example, Erste Bank may hold a collective position of OMV AG shares on their securities account with OeKB CSD, they hold for 100 of different customers.
To ensure that interest and dividend payments of the securities held in the vault find their way to the accounts of their owners, OeKB CSD requests these payments in a timely manner from the issuers and credits them to its securities account holders. In this example, OMV would have to credit the full dividend payment to OeKB CSD. Then OeKB CSD would distribute the dividend among the securities account holders corresponding to their securities holdings.
The Functions of OeKB CSD:
Under its function Notary and Safekeeping OeKB CSD as securities depository accepts securities certificates physically deposited at its counter for safekeeping and administration in its vault after performing a positive inspection of the securities (verification of authenticity and integrity) and credits them to its clients' securities accounts. It also keeps international securities indirectly, i.e. by holding securities accounts with international custodians.
OeKB CSD holds securities accounts and cash accounts on behalf of credit institutions and investment firms, central securities depositories (CSDs) and central counterparties (CCPs), members of the European System of Central Banks (ESCB) and public bodies responsible for public debt management. Investors are non-transparent to OeKB CSD as it assumes that the securities are not owned by the account holders at OeKB CSD but rather by third parties.
Under the function Settlement, OeKB CSD performs instructions (orders) placed by securities account holders and cash account holders with OeKB CSD. In doing so, it enables the settlement of securities from exchange traded and OTC securities transactions.
For securities which OeKB CSD holds and administers itself as Issuer CSD, it collects income for securities due and processes corporate actions and income payments under the function Asset Servicing. For securities which OeKB CSD keeps and administers as Investor CSD with a custodian, it processes the income payment received from the custodian and processes the corporate actions in accordance with the positions credited or debited from the custodian.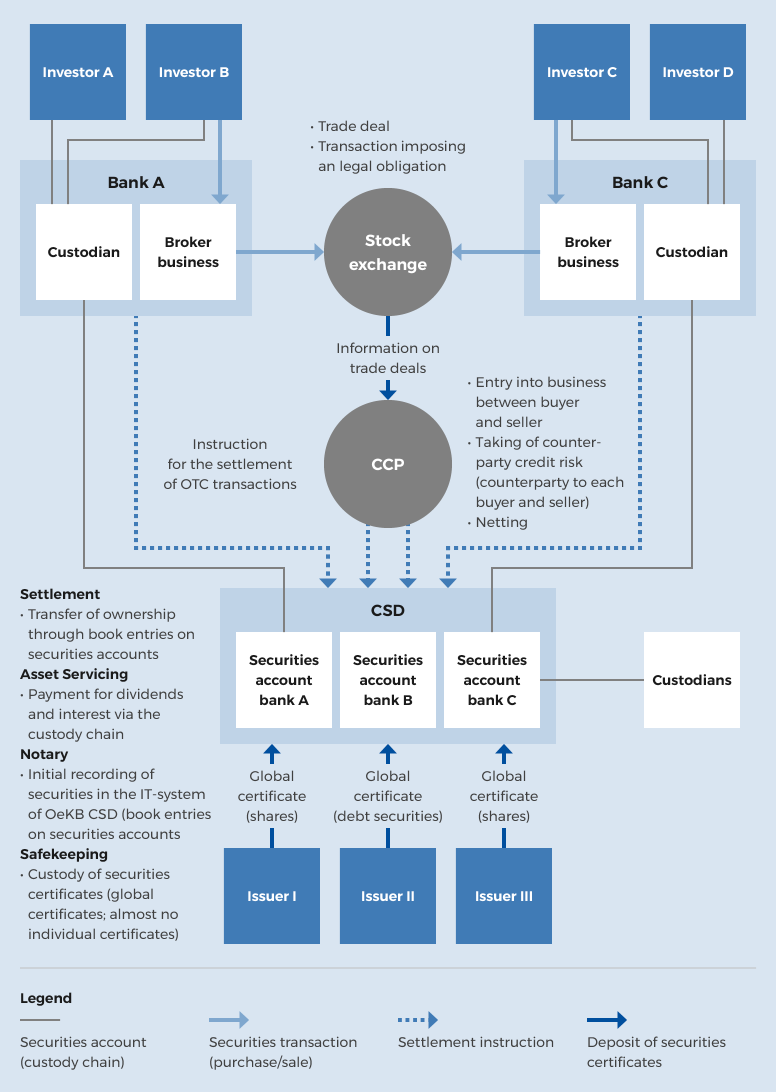 Issuers deposit their securities certificates to the vault of OeKB CSD. We take care of the safekeeping.
We take care of the administrative activities for all Austrian or foreign securities in custody at OeKB CSD.
A central access to a CSD allows the custodian banks to hold fewer securities accounts.
Linked to the pan-European OTC-settlement system TARGET2-Securities (T2S).
Using the IT platform TARGET2-Securities (T2S), effectively eliminated the segregation between domestic and cross-border transactions.
Clients benefit from our decades' worth of experience. We support them in the requirements of the Austrian capital market.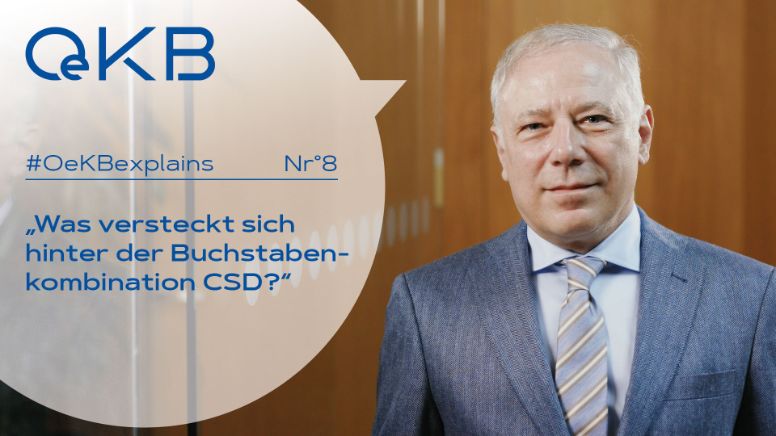 What is hidden behind the letter combination CSD?
Harald Seisenbacher, Relationship Management
(only in German)