OeKB CSD at a Glance
As central securities depository (CSD) according to EU-CSD Regulation (Regulation (EU) No. 909/2014), OeKB CSD GmbH (OeKB CSD) plays an important and central role in Austria's capital market.
It functions as a services hub for participants in the Austrian capital market.
It accepts securities from capital-raising issuers for safekeeping and administration on the investors' behalf.
It processes investors' instructions for the settlement of securities transactions they placed on the stock exchange and over-the-counter.
It coordinates the issuers' payments to the investors to settle the investors' claims to the issuers as evidenced by the securities.
OeKB CSD GmbH is a 100% subsidiary of Oesterreichische Kontrollbank Aktiengesellschaft (OeKB).
Background of OeKB CSD:
Then:
The origins of OeKB CSD date back to the year 1949. In 1949, "Kontrollbank" was given at that time the function to manage the so-called "Arrangementbüro" for the administration of stock trading and to administer the "Wertpapiersammelbank Wien", the Vienna securities depository. In 1965, it was officially appointed as securities depository.
From this time on it took over the role of the Austrian central securities depository, first as a department of OeKB, later to be known as CSD.Austria (CSD.A). This function was based on the appointment as securities depository by the Austrian Federal Minister for Finance and the Austrian Federal Minister for Justice.
Extract from the Austrian Securities Deposit Act Article 1 para. 3 in 1965:
"If conducive to the securities transactions business, the Federal Minister of Finance in accordance with the Federal Minister of Justice shall entrust by regulation a credit institution suitable in terms of its expertise and facilities with the task of a central securities depository located at the respective site of a stock exchange authorised to trade in securities. It shall have the right to call itself a central securities depository. It shall be in charge of holding securities deposited by credit institutions in a central depository (collective clearing custody), which can be disposed of by way of instruction."
Please note: The English translation serves information purposes only. The official wording in German can be found in the respective Austrian Federal Law Gazette (Bundesgesetzblatt – BGBl.).
Now:
Before September 2015 the CSD.A (Wertpapiersammelbank) was a department of OeKB and therefore had no separate legal personality. In preparation for the Regulation (EU) No 909/2014 (CSD Regulation, CSDR) the csd-business was spun off from OeKB and re-founded as OeKB CSD GmbH, a limited liability company according to Austrian law.
On August 1st, 2018 OeKB CSD received the authorisation to act as CSD according to Art 17 of the EU Regulation (EU) No. 909/2014 ("CSDR") and received the permission to provide banking-type ancillary services according to Art 54 CSDR.
Authorisation of a CSD

1. Any legal person that falls within the definition of CSD shall obtain an authorisation from the competent authority of the Member State where it is established before commencing its activities.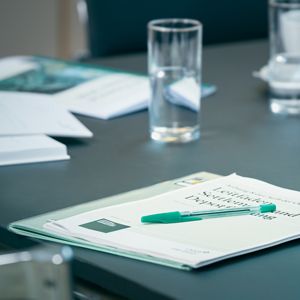 Picture Gallery Then and Now: