08.07.2020
Trustworthy, professional and with a high level of expertise - this is how OeKB CSD is seen by its clients according to a client survey.
Clients of OeKB CSD had the opportunity to share their experiences with the services of OeKB CSD via an online survey. The results exceeded expectations and show that OeKB CSD will continue on its course of solution-, service- and client-focused approach. Nevertheless, OeKB CSD has set itself further goals for the future.
The results in detail:
In the client survey, the Vault Services especially received a positive response. In addition to the Increase and Decrease of Global Certificates, clients of OeKB CSD also rated the new service Digital Transfer of Global Certificates (DTG), introduced in 2018, as very satisfied. The number of requests regarding digital transfer of securities certificates is particularly high. This is also reflected in the current survey. OeKB CSD has already responded to this and is represented in working groups dealing with the dematerialisation of securities certificates. It has also launched the pre-project 3i and is working intensively on its implementation.
The service Income Collection for Securities Due was also rated highly by the clients of OeKB CSD. But also in the Settlement and Securities Account Administration, OeKB CSD is convincing. Here, clients indicated that requests and questions are quickly clarified by phone by the Service Center. This also applies to the Settlement Discipline project on which OeKB CSD is currently working. CSDs play a major role in this project, as they have to take measures to prevent failed securities settlements and report on them. OeKB CSD informs its clients about this topic via newsletter; the Service Center provides support in case of clarifications.
But also the service Asset Servicing, with its two aspects Income Payments and Processing of Corporate Actions, is at the top of the ranking. This shows that the intensive work in the OeKB CSD project "Corporate Actions New" have a positive effect and that clients are already noticing improvements in the processing.
The information channels of OeKB CSD also achieved best scores. Clients of OeKB CSD feel particularly well informed. The information both via mailings and the website is up-to-date, comprehensible and complete.
OeKB CSD is pleased that the Participant Meeting is also gladly used to present current developments to clients. It is showing that not only the timely invitation but also the quality of information provided here is especially appreciated. OeKB CSD will continue to meet the need for participation via conf. call - also in future it will offer Participant Meetings on site and via phone dial-in.
As an optimal completion: The support provided by Relationship Management received extremely satisfying feedback in the survey. Relationship Managers are regarded as experts who are very familiar with the current issues in the capital market.
In summary, the results show that the service performance of OeKB CSD is perfectly in accordance with its vision.
Click here for the results: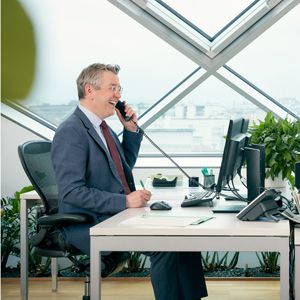 Any questions? Please contact us!
OeKB CSD Service Center